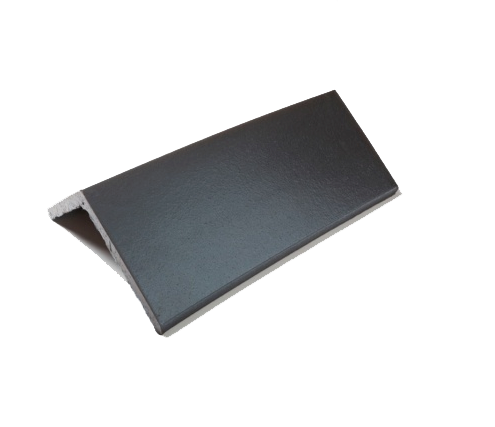 Angle:
60 Degree, 75 Degree, 90 Degree, 105 Degree, 115 Degree, 125 Degree, 135 Degree
———————————————————————————————————————————————————————–
The plain angle Clay Ridge has designated angles.
The plain angle Clay Ridge is closest in quality, colour and shape to the reclaimed ridges we reclaim from old roofs, more than 100 years old.
They have been used in 1000's of both new and restoration projects.
They are popular on reclaimed roofs as the wider angle reclaimed ridges are proving difficult to source.
They have a unique straight line/point,  along the top of the ridge, leaving a sharp look to any ridge line.
Material        Fine Clay, Oven Baked, Low Water Absorption, High Frost Resistance.
Length          450mm Long
Angles          60, 75, 90, 105, 115, 125  and 135 degrees
Colour          Blue Black Glaze
Can be dry fixed or mortared on.
Dry Fix System also available for these ridges.