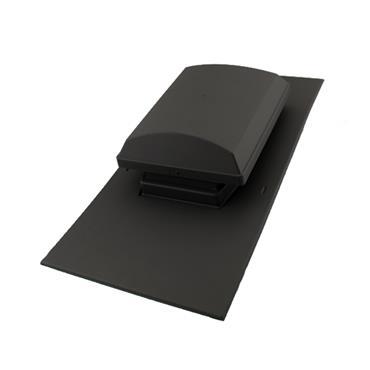 Normally used as an inlet or outlet for most residential heat recovery units.
This vent is suitable for use with most 6″ Heat Recovery Systems.
They match most roof slates in size, shape and colour (blue black)
Suitable for roof pitches between 20° and 60°.
Guaranteed actual net free ventilation area: 20,000 mm².
Driving rain and deluge rain resistance demonstrated by test data.

Prevents entry of birds and large insects.

AA fire rating to BS 476: Part 3: 2004.

Underlay opening protector, integral 4 mm insect screen, and ventilator throat or extension sleev meet design requirements of BS 5250.

Designed and developed under BS EN ISO 9001.
The low-profile cowl is geometrically the smallest available in the marketplace for the air capacity, projecting only 85 mm above the roof surface.
Should be used with the 150mm/6″ Adaptor.
Ensure the roof underlay is cut and that there is a continuous permanent weatherproof path from the roof void to the outside without impairing the weatherproof function of the structure, in accordance with BS 5250.
The adaptor is supplied separately and snap-fits to the underside of the ventilator on site before the ventilator is installed.